The link between education and development is well-established in the sustainable development arena; "Quality Education" is the fourth of the 17 Sustainable Development Goals, which were adopted by United Nations member countries in 2015. Ensuring progress through education is essential to innovation and advancement of development goals.
In the Ivory Coast, access to education has been heavily impacted by political instability, most recently in the early 2000s. Following this tumultuous period, the government invested in educational improvements. Several projects focusing on girls, child labor, and COVID-19 have been implemented in the Ivory Coast over the last two decades, often involving partnerships between NGOs, international development institutions, and the government.
Access to basic primary education has improved and enrollment rates have increased dramatically as a result of government efforts. However, the improvements have continued to disproportionately support boys. More than 25% of girls in the Ivory Coast do not attend primary school.[i] Unsatisfactory rates of drop-out and repetition persist, as well as classroom overcrowding. In addition, beyond statistics related to the number of students in the classroom, the actual rates of competency in math and reading continue to be low. The country's Education Sector Plan for 2016-2025 focuses on the quality of education itself, addressing the fact that more resources are needed for deploying more modern teaching materials and hiring teachers.[ii]
According to UNICEF, persistent child labor is a symptom and self-perpetuating cause of poverty in the cocoa sector. As the world's largest producer of cocoa, the Ivory Coast is familiar with these issues. Cocoa is integral to its economy, providing income for approximately 20 percent of the population.[iii] In a demonstration of the cyclical nature of the problem, the inability of governments to respond adequately due to historic under-investment and the issue of child labor are both rooted in the lack of education.[iv] 
Fair Trade USA in the Ivory Coast
Over the course of three years, Fair Trade USA carried out a mixed methods study in nine countries and across seven commodities in order to understand the impact of Premium Investments. Premium funds are accrued through the program's unique requirement that commodities bought on fair trade terms include additional resources for community investment. They are invested in worker-controlled Community Development Funds. Unlike other economic development programs, this model results in workers subsequently voting on how to spend the funds earned through their fair trade agreements.
Among other positive outcomes, the Fair Trade Certified™ program was found to be a driver of increased education. A variety of education-related initiatives resulted from Community Development Fund investments, including scholarships for participants' children, the provision of school supplies, as well as improved infrastructure for schools.
In the Ivory Coast, cocoa grower cooperatives  have invested heavily in updating existing schools with toilets, chairs, and tables, as well as building new schools. These new schools facilitated access to education locally, reducing the time needed for students to travel to school as well as parental anxiety; as one farmer from Coop Carefsi in Koffikro noted:
"I watch my children who go to school next door and that makes me happy. It's something that reassures me."
Sometimes Community Development Funds are used in the form of a cash payout. Nguessan, a cocoa farmer working in Oume with the Coopatesa cooperative, stated that with the help of the cash payouts he was able to "buy some food for my family and … help my children go to school. I have eight children." Another program participant shared that they used the funds to pay for both schooling and transportation to school for their children. Fees for books, materials, uniforms, and shoes are among the biggest obstacles to increasing school attendance; even in schools where requirements are not strictly implemented, the lack of these supplies increases the likelihood that a student will stop attending. Participants have used cash payouts to ensure that their children have more of the supplies they need to succeed academically.
Overall, participants responded that they felt they were better able to provide for their families with the support of the projects invested in via Community Development Funds. Cash payouts were cited as an effective tool for meeting basic needs, and participants can better afford education-related needs when others, like health, are being met through other Investments.
In addition to bettering the lives of their families by facilitating access to schooling for their children, participants indicated that formal trainings on topics like financial management and eliminating child labor led to skill development and empowerment for participants themselves.
Looking to the Future
Overall, the ability for farmers and workers to invest their Community Development Funds in projects that assist with increasing access to education, improving education infrastructure, as well as transportation expenses at the individual and family level can be transformational.
Ongoing research continues to demonstrate that COVID-19 has further exacerbated issues related to education and has led to increased rates of child labor globally. The rate of child labor in cocoa growing communities is significantly lower when the quality of education is higher. Education not only has a positive influence on the future of communities but protects children from harm. Although significant progress has been made, it is vital that it remain a central focus among corporations, NGOs, and international entities concerned with sustainable development.
Research Findings Report
In our report, Improving Access to Education for Cocoa Farming Families in the Ivory Coast, we highlight qualitative and quantitative insights gathered from research investigating the impact of fair trade Community Development Funds (CDFs) and minimum prices. Read testimonials from fair trade participants in the Ivory Coast and learn about other education-related projects supported by Community Development Funds.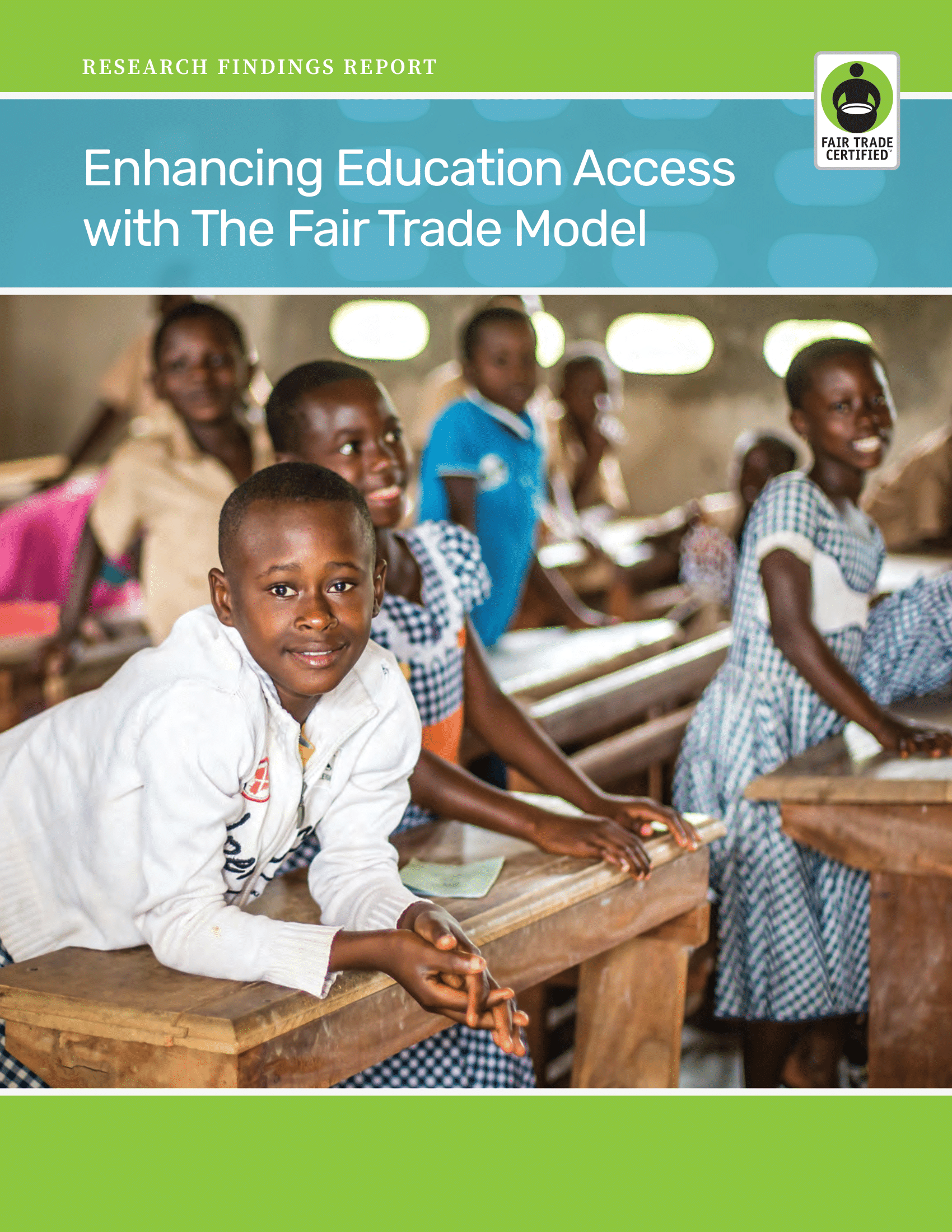 Sources
[i] Summative Evaluation of GPE's Country-level Support to Education. Universalia Management Group.
[ii] Jacques Morisset. What's Behind Poor Education Outcomes in Côte d'Ivoire?. World Bank Blogs.
[iii] Molly Wyss and Jenny Robinson. Improving Children's Reading and Math at Large Scale in Côte d'Ivoire. Brookings Institute.  
[iv] Wyss & Robinson.