U.S. Consumer Insights: Conscious Consumerism Goes Mainstream
See why more than 1,500 companies have chosen fair trade certification to meet sustainability goals, increase brand trust, and reach more shoppers.
Reports show consumers are prioritizing sustainability now more than ever
The pandemic changed the world, altered shopping behaviors, and shifted priorities. Research shows that the sustainable shopping sector continued to rise in 2021 as consumers – especially Gen Z and Millennials – demanded more ethically and environmentally conscious products.
In 2022, that rise in conscious consumerism was put to the test by an economic climate dominated with inflation and uncertainty. Despite rising costs, new data reveals ethical products are becoming more mainstream and consumers increasingly see fair trade as one of the easiest ways to improve lives, communities, and the environment through their purchases.
U.S. Consumers increasingly know and trust Fair Trade Certified™
Consumers say third-party certification is a trustworthy indicator when they make purchase decisions. Fair Trade USA's rigorously maintained standards set the global benchmark for sustainable sourcing, strengthen brand trust, and build consumer loyalty. Fair Trade Certified is the most widely recognized fair trade seal in the United States, and now data indicates that fair trade awareness – and purchasing behavior – is moving into the mainstream.
65%
Of consumers recognize the Fair Trade Certified seal.
78%
Of consumers put their trust in the Fair Trade Certified seal
55%
Of shoppers who bought Fair Trade Certified products were from more mainstream consumer categories (up from 43% in 2021)
Younger Generations Are Leading the Change
Younger generations continue to pay closer attention to the state of the planet and the practices behind the products they buy. When compared to older generations, Gen Z and Millennial consumers are more likely to recognize and actively look for the Fair Trade Certified seal, and that awareness translates to purchases.
75%
Of Millennials recognize the Fair Trade Certified seal
66%
Of Gen Z recognize the Fair Trade Certified seal
55%
Of Millennials indicated they'll pay more for a Fair Trade Certified product – even with inflation
Download the 2022 Consumer Insights Report
This 2022 Consumer Insights Report shares key findings from the data Fair Trade USA uses to understand consumer attitudes, perceptions, and behaviors around sustainable and fair trade product. Download the full report today!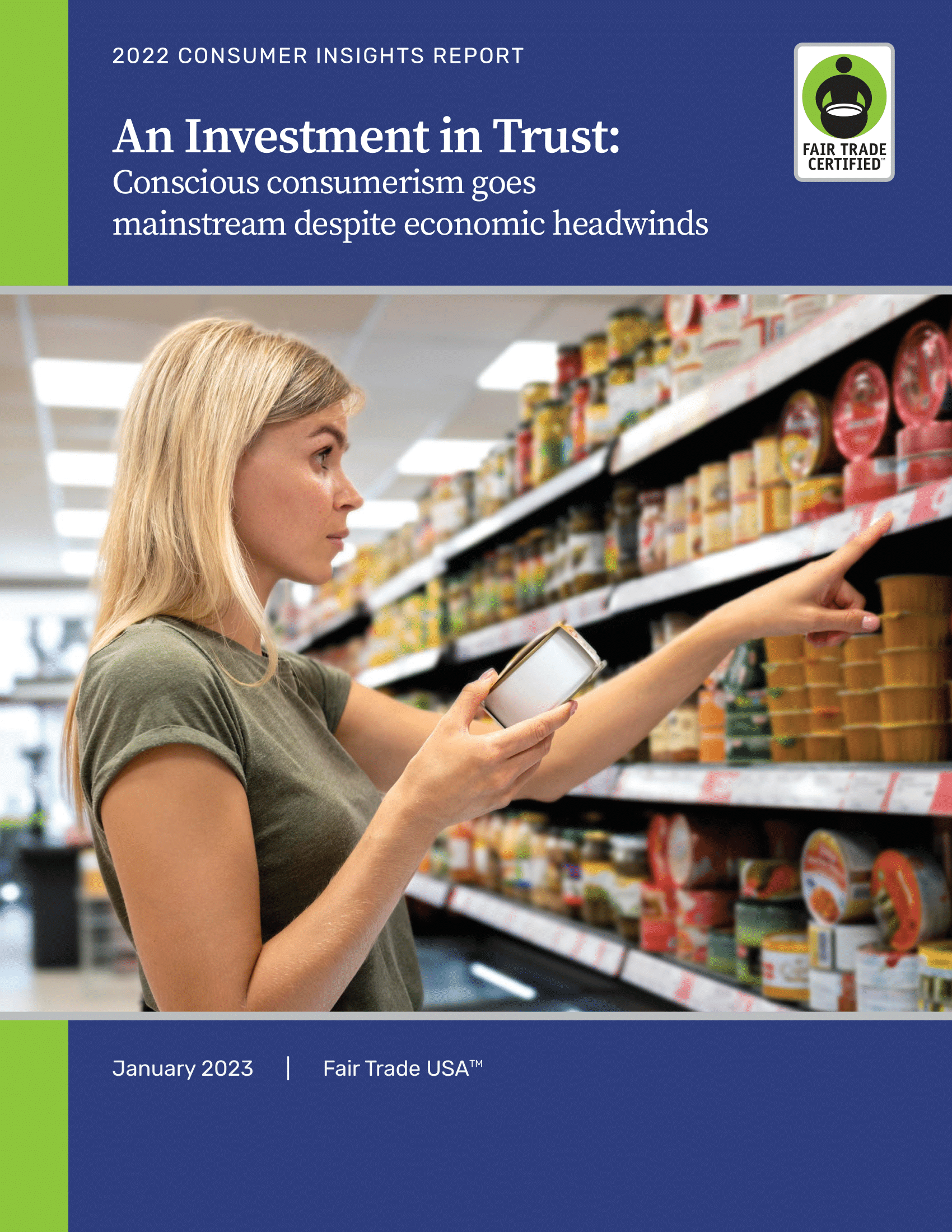 See how fair trade certification can work for your business.